JingDong(LaoTing) help to completed the construction of Xiaotangshan Hospital in one week!
Beijing Jingdong Technology(Laoting) Co., Ltd. help to completed the construction of Xiaotangshan Hospital——-The largest designated hospital for SARS in China and the largest designated hospital for COVID 19 in Beijing, China, in one week.1500 sets of hospital beds and complementary furniture ,360pcs transfer windows ,800pcs hospital trolley, patient stretchers and workstation trolley, nearly 400 sets of ward screens and complementary facilities ,2000 sets of sphygmomanometer is fully installed and debugged.
Mar10.2020, Fengzhiyu——the general manager, commander-in-chief rushed to the Xiaotangshan hospital at 7 a.m. to arrange and direct the "battle plan" ,which made by day and night, focus on the entire delivery process, from whole system to details, handle emergency problems timely. In order to complete the delivery task as soon as possible, the general manager leads a group of employees of the Ministry of Commerce, Purchasing Department, International sales Department, domestic sales Department, Human Resources Department, Product Department, Finance Department, Marketing Department to participate in it. Under the leadership of General Manager Feng Zhiyu, Yang Jing and Project Commander Xu YanRu and Deputy Commander-in-Chief Jiao Meng, the job was carried out methodically. As a newborn at workplace, I see a strong ability and get a huge momentum from the leaders.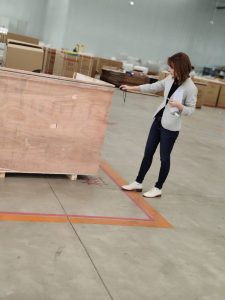 The sudden outbreak of COVID19 disturbed our regular life. However, what doesn't kill us make us stronger.In this battle without fire, we see people pull themselves together and show the power of unit.It makes people moved to tears in this new year.
The task is very difficult; besides, time presses! During the epidemic, the transportation, handling and installation of large quantities of goods are very challenging, but methods are way more than difficulties. Large vehicles cannot be directly brought to the hospital? Switch to a midsize car and carry it more often. We don't have enough people to carry goods, and we can't just find temporary workers during the epidemic because of the safety problem? Mobilize the whole company's staff to participate in cargo handling; It took us more than 2 hours to go back and forth from the company to Xiaotangshan Hospital. In order not to lose time, we started before dawn. In order to speed up the progress, we only went home when the stars were full of the night sky.One week,we made it!