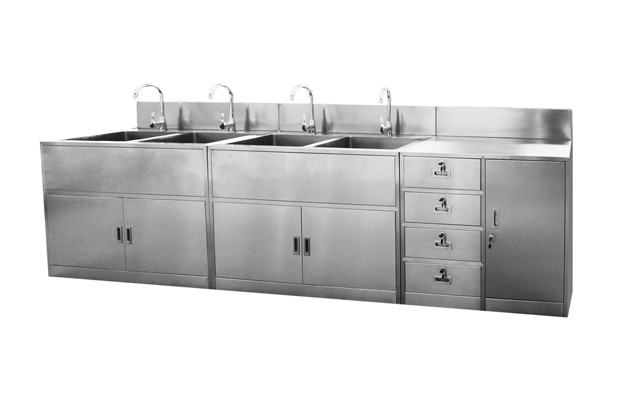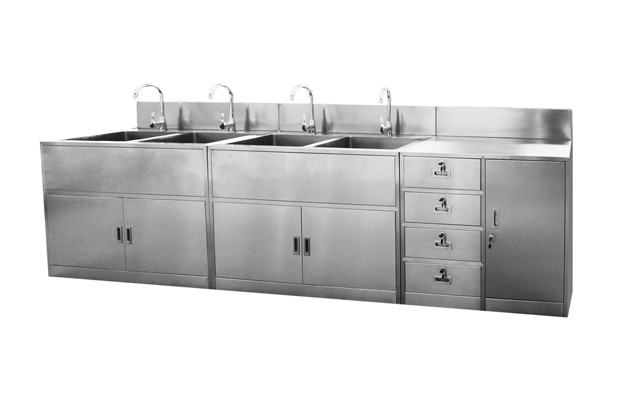 Product Material
304 stainless steel, plate thickness 0.8-1.2mm.
Product Feature
1.The countertop is designed with four cleaning tanks, smooth and seamless, with a stainless steel countertop on one side;
2.The cabinet body is designed as a combination of drawers and cabinet doors, reasonable storage, space saving, and convenient storage; Split combination design, the right side is a storage cabinet, the length of the cabinet is 700mm, the left side is a double sink cabinet, and the length of the sink cabinet 900mm, equipped with 4 washing sinks, washing sink size: 375*415*270mm (small size), the wash sink has a diversion groove, and does not store sewage;
3.The drawer uses high-quality three-section mute slide rails, sliding smoothly and quietly, with self-locking function, each slide rail can bear 30KG;
4.The partition on the right side cabinet can separate the storage area and use the space reasonably;
5.Open the door in front of the pool cabinet for easy maintenance;
6. High-quality copper core cold and hot water mixing anti-splash faucet, equipped with dirt filter.
Leave Your Message