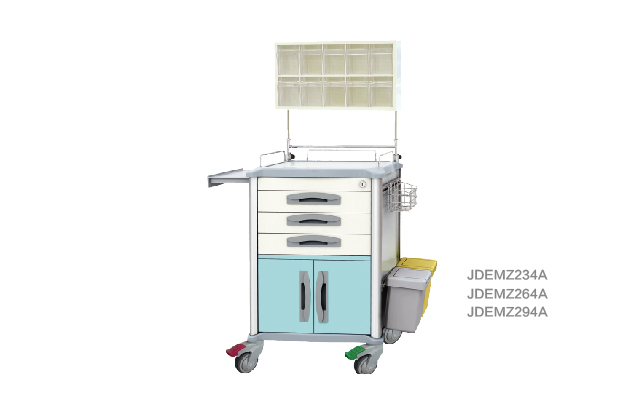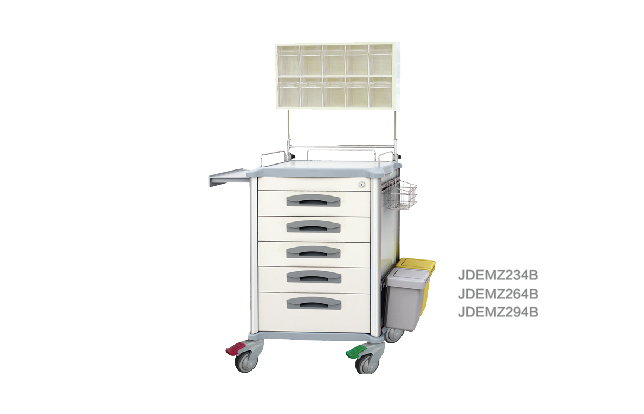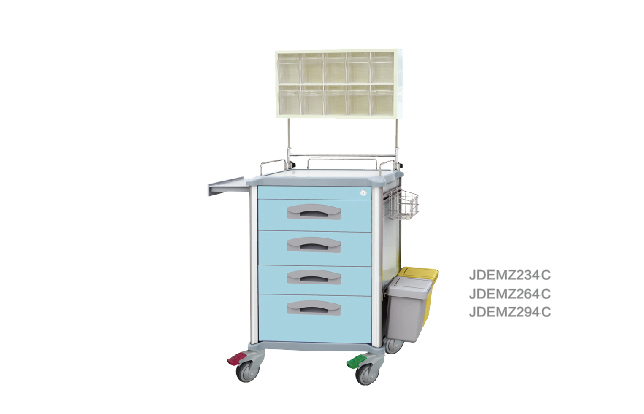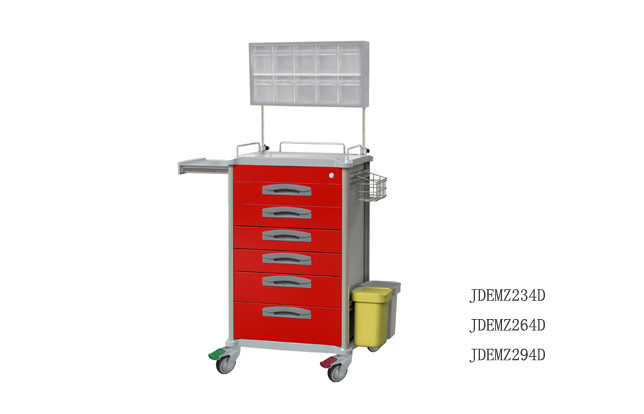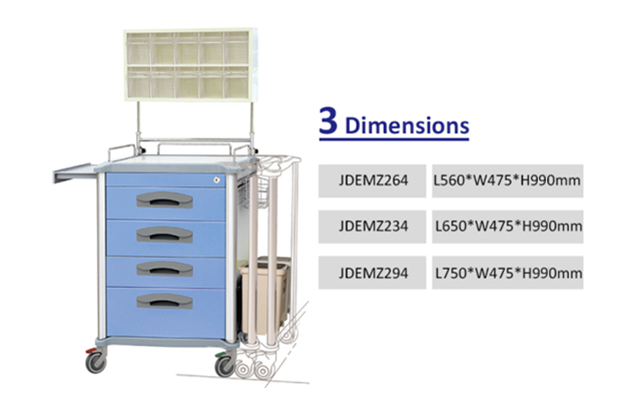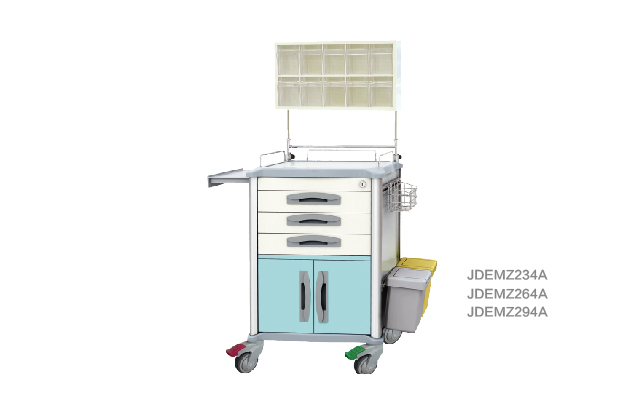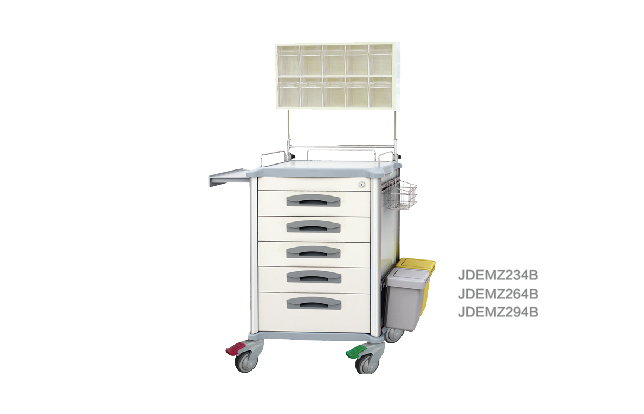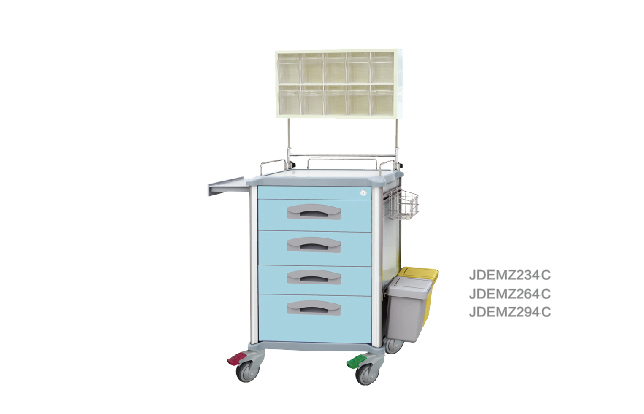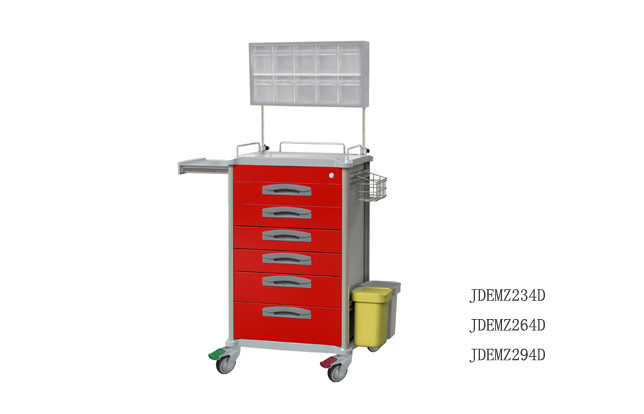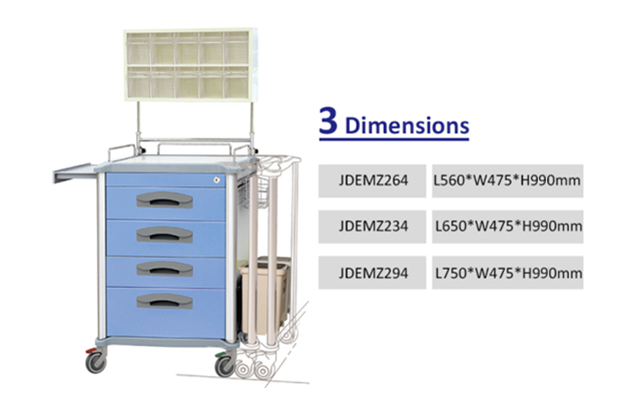 Essential Information
Product Name
N6 Series Anesthesia Trolley
Model Number
JDEMZ264/ 234/294
Dimensions
L560/650/750xW475xH990/977mm
Material
ABS, 304 Stainless steel, Aluminum alloy
Product Introduction
Product Display
Style Classification
Product Material
1. Surface: ABS molded table mounting 304 stainless steel plate, features abrasion resistance and corrosion resistance; three-sided 304 stainless steel fence to avoid any falling of materials.
2. Pillar: Aluminum alloy pillar with electrophoresis coating.
3. Board: High-quality aluminum composite panel for sideboard and backboard.
4. Drawer: All drawers are a detachable design, easy to clean and replace.
5. Drawer handle: ABS.
Product Parameters
Product Name
N6 Series Anesthesia Trolley
Material
ABS, 304 stainless steel, Aluminum alloy
Brand
JDMED
Model
JDEMZ264/ 234/294
Dimensions
L560/650/750xW475xH990/977mm
Drawer Color
Optional
Castor
4pcs φ100mm Noise-free casters, 2pcs with brake
Product Feature
1. Space: Larger and classified storage drawers, anesthetic medicine box, and storage cabinet (JDEMZ264/234/294).
2. Castor: 4pcs φ100mm Noise-free casters, 2pcs with brake.
3. Round bumper: on the bottom of the trolley body.
4. Loading: Drawer loading: 25KG; Overall loading: 100KG.
Product Application
Because of the excellent quality and service, our Hospital Trolley are widely used in the hospital of different countries like the U.K, France, Germany, South Africa, Middle East, Chile, Japan, Australia, Korea and etc.
Reference Photos
Packaging&Shipping
Leave Your Message