Essential Information
Product Name
SURI-MS (Two Functions Manual)
Model Number
JDC-SY181A/ JDC-SY181B
Dimensions
L2260xW1050xH500mm
Function
Two Functions
Material
Cold Rolled Steel, HDPE
Product Introduction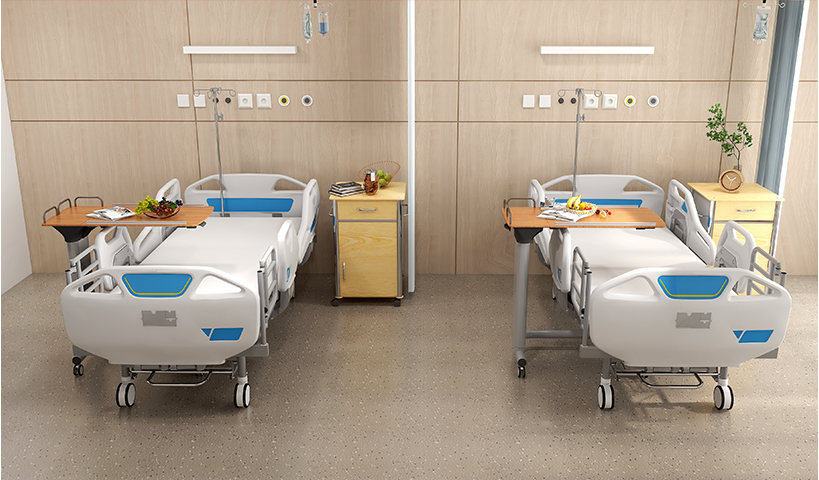 Product Display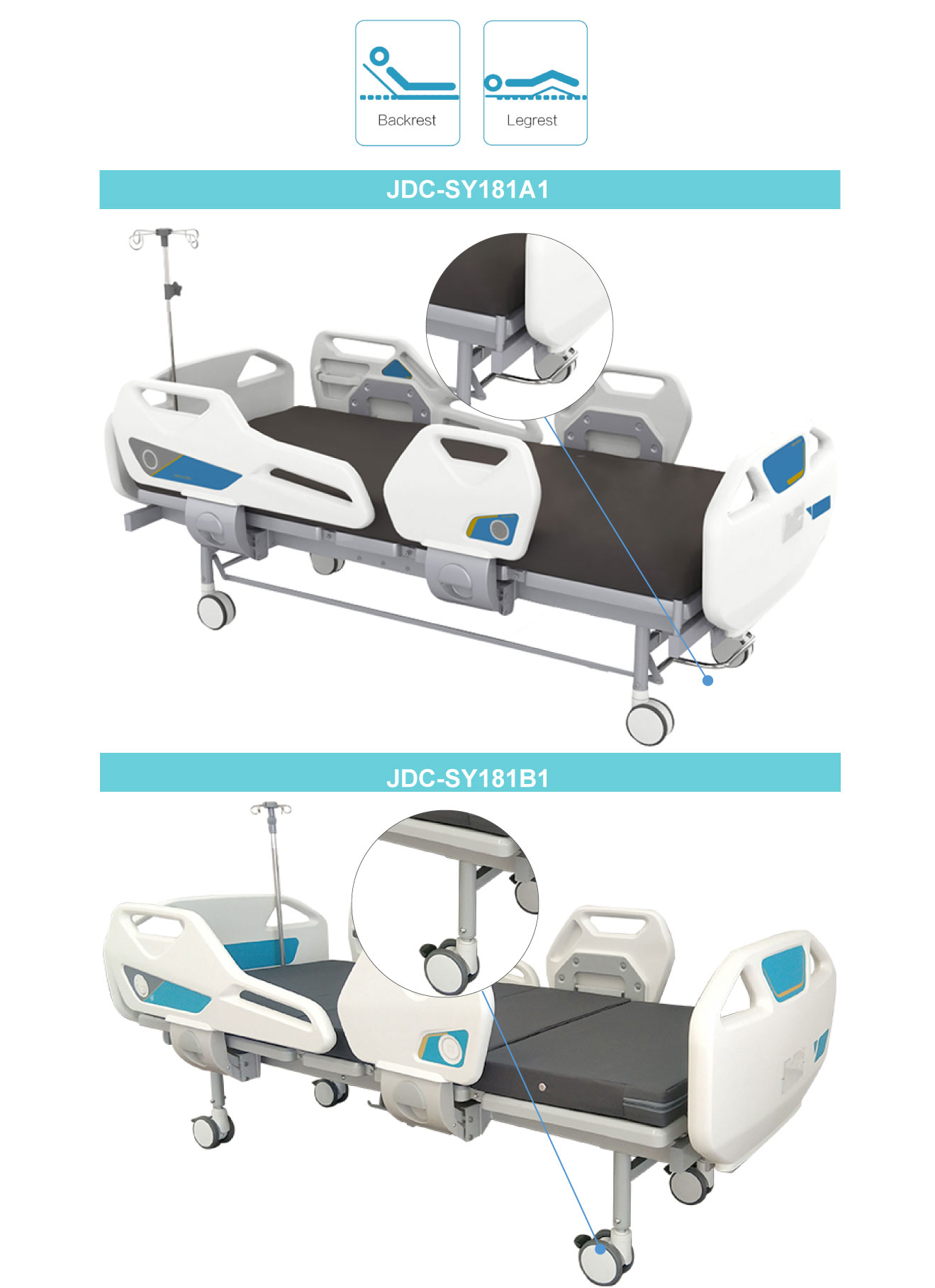 Product Detail Display
Product Material
1. Bed platform, structure and leg are all made of premium cold rolled steel with electrostatic powder coating.
2. The Bed platform consist of four foldable sections, stamping frame.
3. Detachable HDPE bed headboard and footboard.
4. Four-section HDPE side rails operated by gas spring.
5. The third side rails is made of premium quality cold rolled steel with electrostatic powder coating, which is rotated and lockable(Optional)
Product Parameters
Product Name
SURI Manual Bed
Material
Cold Rolled Steel, HDPE
Brand
JDMED
Model
JDC-SY181A1\ JDC-SY181B1
Dimensions
L2260xW1065xH500mm
Bed Platform
1980x900mm
Backrest
0-75°±5°
Legrest
0-45°±5
Brakes System
Central Brake\ Wheels Brake
Sticker Color
Wood Grain\ Royal Blue
Product Feature
1. Backrest 0-75°±5°, Leg rest 0-45°±5°.
2. Angle indicators are on the both side of backrest side rails.
3. Bedside card for patient name display, Four infusion holes, four drainage hooks around the bed.
4. Mechanical crank operation with overload protection.
5. The screw handle is foldable under the bed footboard.
6. Four 125mm diameter castors with central brake (JDC-SO181A1) or wheels brake (JDC-SO181B1).
7. The four corners of the bed body have orthopedic traction frame holes, which can be used for the clinical use of orthopedics when needed (Optional).
Optional accessories and function list
Product Application
Because of the excellent quality and service, our SURI Hospital Bed are widely used in the hospital of different countries like the U.K, France, Germany, South Africa, Middle East, Chile, Japan, Australia, Korea and etc.
Reference Photos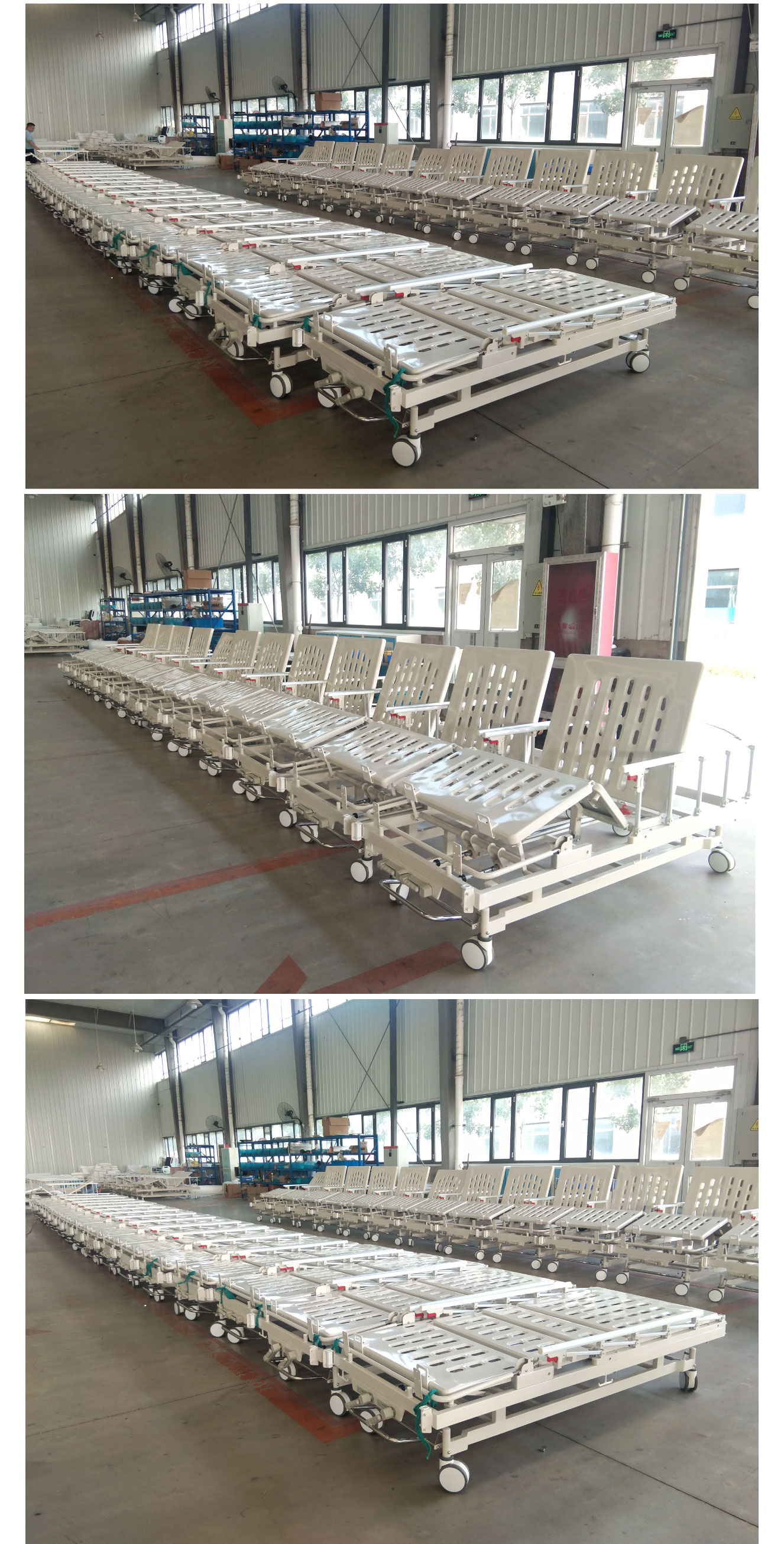 Packaging&shipping
Leave Your Message